Challenge
AT&T needed a new design for their Business sales site. They had used an outside vendor to produce some visual Comps for the new designs.
I was one of the UX Designers that worked on creating the new site taxonomy and site map, as well as the logic for how the Users would be able to find products, read about offerings, and add products to the Shopping Cart.
Shown here is a portion of a page, showing the new visual styling for the site and the new method for displaying products available to add to the Shopping Cart.
Approach
We worked with the business to better understand the products and services being offered.
We worked with the Visual Designers to tweak their designs to fit with the business needs.
We created many, many Wireframe documents in order to determine what elements were needed for Users to make a purchasing decision for all of the various products and services.
Myself and one other key UX Designer led the rest of the newly formed project team through a project process session. Previous to this session, there was a lot of confusion about Wireframes and Comps and final Content needs. After the session, I created a flow diagram so that all project team members understood how all of the various teams and documents fit into the overall project timeline.
Entire Comp for the Conferencing Services page
(created by the Visual Designer)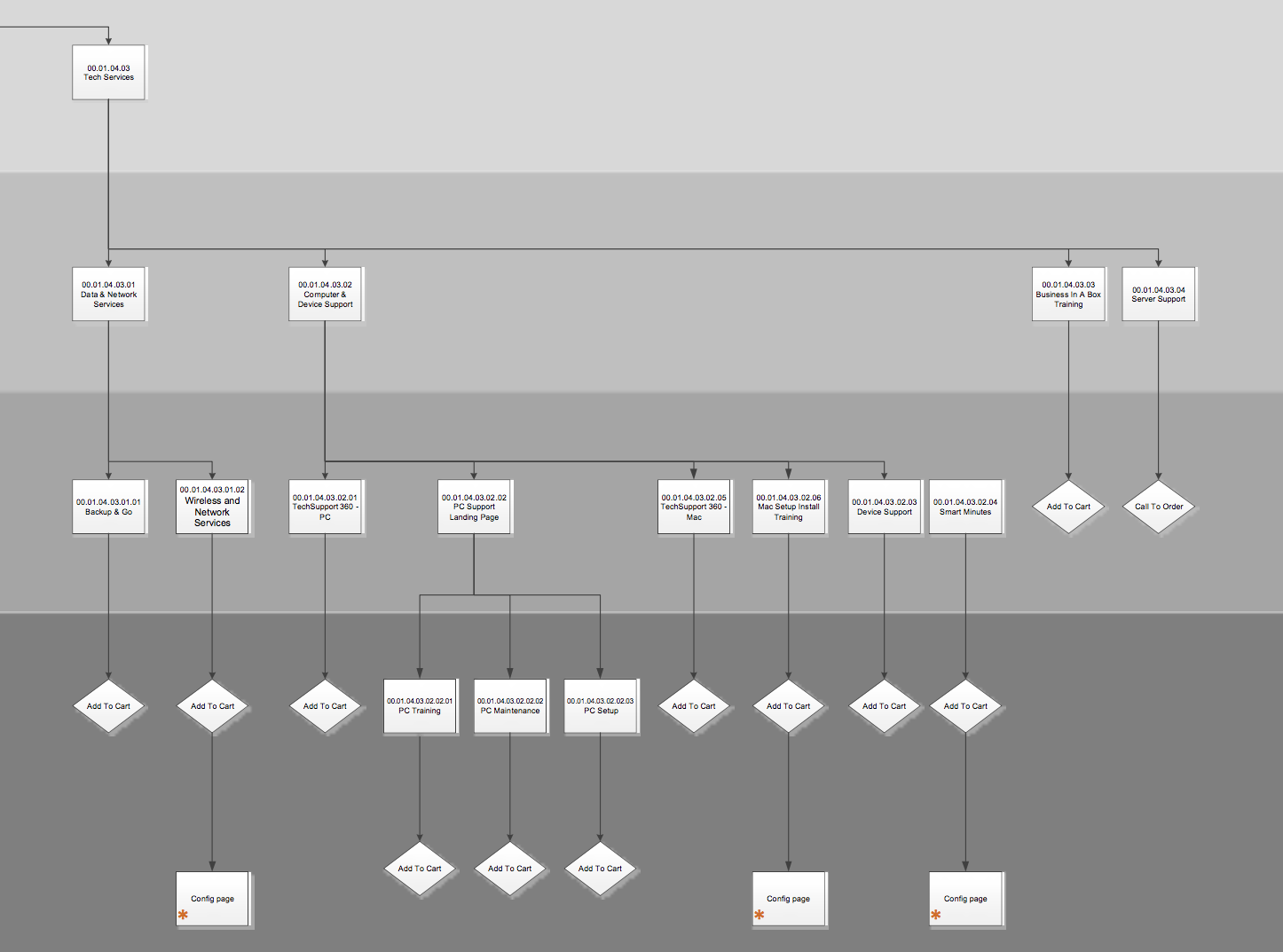 I was responsible for keeping the Site Map up to date. Here is just one section of the 9 major areas of the site
Result
Once we were engaged to help bridge the gap between the outside visual design vendor and the business owners, the business requirements and the business logic of these complicated products started to come together. We were able to bridge the gap between business and development teams and also to bring the end User to the table in order to make a complex set of products and services all be housed under one site with one look and feel.
Project Details:
Company: AT&T

Year: 2014

Team Size: 30

My Role: UX Designer

My Contributions: Taxonomy, Wireframing, Prototyping, Stakeholder review meeting facilitation, project process.

Project Goal: Redesign of an existing site.